Solaris Lands in Boston's "Silicon Valley" of Biotech
Solaris opens a showroom in Kendall Square in Cambridge, the new Silicon Valley of biotech.
Solaris attends BPI (BioProcess International), one of the world's most important exhibitions on bioprocessing.
Boston (MA), United States, Oct. 3, 2022 - Solaris Biotech has opened a showroom in Cambridge during the days of BPI (BioProcess International), one of the world's most important trade shows dedicated to biotech. The showroom is located within the CIC – Cambridge Innovation Center, a hub of start ups and hi tech companies between the city of Boston and the MIT area.
Solaris Biotech is a leading innovator and manufacturer of bioreactors, fermenters and tangential flow filtration systems that enable the technology to be used for a variety of applications in the pharmaceutical, biopharmaceutical and food industries.
The "Silicon Valley" of Biotech
Matteo Brognoli, Managing Director of Solaris Biotech, says: "The United States is at the forefront of biotech process development, and the Kendall Square area in Cambridge in the Boston area is the "Silicon Valley" of the industry. This is where the most dynamic players in pharma and biotech projects operate. We have seen how important it is to be physically visible to customers with the success of our first U.S. office in Berkeley, California, and we are confident that our new presence on the East Coast will be just as effective."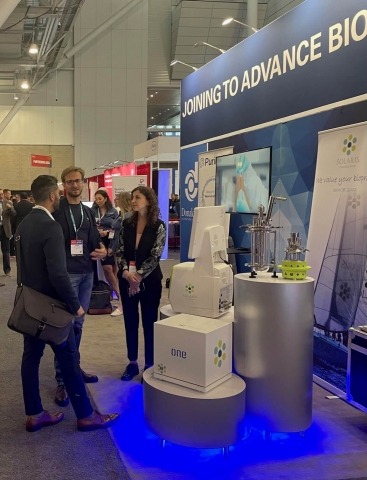 Arnaldo Minuti, Counsel General of Italy in Boston, comments: "When it comes to biotech, the Greater Boston Area combines incredible access to resources and talent, making it a point of reference for the industry worldwide. We are proud that Solaris Biotech, a new relevant player from Italy, has arrived to Boston, bringing important contributions to the field of synthetic biology and more. With the numerous challenges and hopes that humanity faces in the future with regards to food sources, environmental sustainability and pharmaceutical solutions, a bioreactor can become an effective tool in providing us with answers."
Solaris and BioProcess International
Solaris was founded in 2002, the same year BPI started as an event.
"BPI was founded as a magazine the it turned into a meeting" explains Howie Choi, Head of Marketing at Informa Connect, the BPI organizer: "Since then BPI was held every year except in 2020 due to Covid. Today we organize one event in Boston, one in California and one in Europe."
"People come to BPI to learn how to accelerate promising biological, cellular and gene therapies to commercial success. Each year, BPI's scientific agenda includes more than 200 of the industry's top scientists presenting the latest updates on how to improve efficiency at all stages of biopharmaceutical development and manufacturing. This year in Boston we count more than 4,000 professional physical and digital visitors. The key trends in this business are computer integration and AI and of course sustainability," continues Choi. The next edition of BPI Boston will be held from September 18 to 21, 2023.
Solaris, which has been part of the Donaldson Group since November 2021, was present with a booth shared with Donaldson itself and Purilogics, another Donaldson Group company active in the biotech sector.
Solaris is exhibiting laboratory machinery, suitable for research purposes and small volumes, intended for universities, specialized centers, and start-ups.