Why Use Tangential Flow Filtration (TFF)?
Tangential Flow Filtration, aka Cross Flow Filtration, is an important step in bioprocessing but has its unique set of challenges. How can TFF be more reliable and better optimized for process-driven systems?
Unlike a dead-end impact filter where the product flows perpendicular to the filter (prone to clogging), the product stream in TFF moves in parallel to the filter. This allows solids to be kept in solution and minimizes the buildup of a "filter cake" which can foul the membrane.
Advantages of Tangential Flow Filtration
Meet your unique processing requirements with flexible filter solutions such as batch and fed batch ultrafiltration.
Today's industrial design -- even in compact, benchtop TFF systems -- provides for accurate and continuous transitions to scaling up.
Applications for TFF
Separation of large and small biomolecules, clarification and/or removal of contaminants.
Diafiltration for buffer exchange, desalination, and removal of biomolecules.
Concentration and desalination of proteins, peptides, DNA/RNA, and oligonucleotide.
Purification and/or recovery of recombinant proteins and antibodies from cell culture media.
Purify and/or recover plasmid DNA from cell culture or cDNA from blood.
Cell harvesting (bacteria, yeast, mammalian cells.)
Fractionate mixtures of proteins/peptides.
Clarify and desalt whole cell lysates and homogenized tissue.
Sample prep for chromatography.
Reduce Bioburden and/or clean up water, solutions, buffers, and media (remove and/or reduce endotoxin load.)
Recover and or remove virus particles and/or vaccines.
Challenges for TFF
Matrix/Composition/Viscosity.
Pumps/Feed rate/Product volume.
Sensitivity to shear stress/Physical properties of product.
Concentration/Solubility.
Process Temperature.
Interface/Operation.
Scalability of bioprocess (across platforms)
Filter fidelity/lifespan
Selectivity/Yield.
Downstream processing
Types of Filtration
Particulate and Microfiltration generally use membranes with pores that can remove particulate and larger microorganisms.
Ultrafiltration has smaller pores that will reject all microorganisms and soluble macromolecules such as proteins.
NanoFiltration has the smallest pore size (10 Angstroms or less) and will let very small molecule pass through.
Reverse Osmosis uses non-porus membranes and reject solutes with low molecular mass (salts, organic compounds, etc…)
Filter Types
Introducing Kronos - The Benchtop TFF System by Solaris Biotech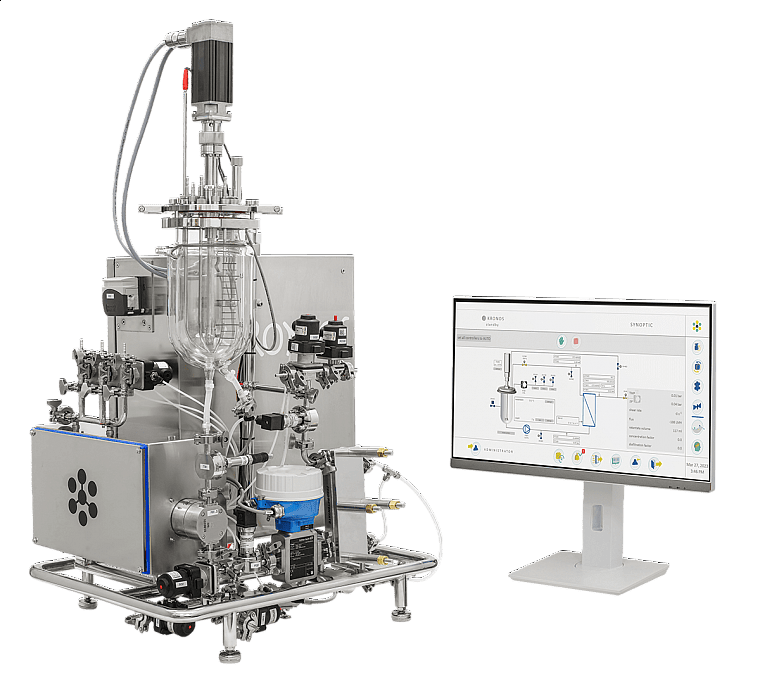 Solaris TFF Systems can scale from bench top to pilot and industrial scale applications. Our equipment uses state of the art components integration and controlling technology.
Industrial grade stainless steel parts, cGMP certified
Transparent jacketed vessel with agitation
Quattroflow pump up to 3L/min
Benchtop size, small footprint
Small (70ml) hold up volume
Can utilize Hollow Fiber or Cassette filter type (modular)
Interface/Optimization (automated process control)
Permeate pressure flow control pump
Sensors: Conductivity, Temp, UV 280, Load cells
Safety Features: Pressure Alarm and level sensor
Digital probes/communication with SCADA systems
Remote access and control via Leondardo Software
Solaris offers scalability across platforms (benchtop, pilot, industrial)
Membrane types can be interchangeable for flexibility with your processing applications.
The Leonardo Software Features and Interface includes:
CFR21 Part 11
Synoptic Overview of whole system
Automated Process Sequence and Logic Parser
Ability to dynamically review all data and trends
Automated Normalized Water Permeability (NWP) Test
Filter management module