Photobioreactors allow for exquisite control of your phototrophic bioprocess to optimize photosynthetic efficiency, biomass production, and high value products.
How does a photobioreactor work?
Photobioreactors are specialized bioreactors for culturing phototrophic organisms. Given the correct conditions, almost any algae, cyanobacteria, seaweed, or plant cell can be grown efficiently in a photobioreactor. The ability to control carbon dioxide, temperature, nutrients, mixing, and light intensity in a bioreactor means that the organism in question can achieve much higher biomass than in nature.
Applications for Photobioreactors
Applications for photobioreactors include growing algae and cyanobacteria for biofuels, bioplastics, pharmaceuticals, nutriceuticals, food additives, carbon capture, and waste water remediation.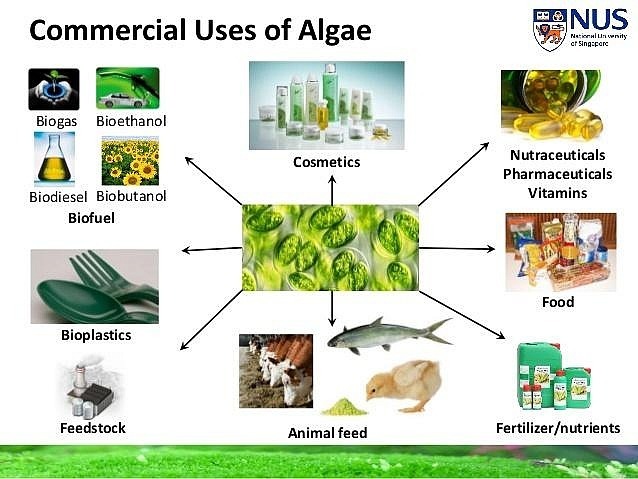 Applications for Photobioreactors include:
Culturing Macro and Micro Algae
Cyanobacteria and purple bacteria
Seaweed, plant cells, and bryophytes
Waste water remediation
Hydrogen gas production (biorefineries)
Algal alcohols and oils as biofuels
Production of Biomolecules (polysaccharides, amino acids, isoprenoids, phenols, etc…)
Bioplastics, organic renewable replacements for petrochemical products
Aquaculture (animal feed, human nutrition, value added products)
Carbon Capture (sinking carbon to mitigate climate change)
Pharmaceutical applications (drug discovery, bioactive molecules, vaccine production, etc…)
Cyanobacteria As A Model System
"Cyanobacteria are the earliest group of photosynthetic gram negative prokaryotes to have evolved. They are capable of producing a vast diversity of secondary metabolites with bioactive properties such as antibiotics, antifungals, and antitumor. Cyanobacteria can be used to efficiently produce biofuels as well as next generation bioplastics and polymers. They are a genetically tractable system and are being used more and more for recombinant protein expression. There is also serious potential to use the nitrogen fixing capabilities of these organisms to produce sustainable biofertilizers. Photobioreactors are the best way to culture and optimize cyanobacteria based processes at the benchtop scale." -- source: sciencedirect.com
Challenges of Using Photobioreactors
Traditional bioreactor designs face challenges in delivering process efficiencies. Challenges using a photobioreactor include:
Precisely controlling light intensity and temperature simultaneously.
CO2 and gas diffusion constants.
pH adjustment in real-time.
Culture mixing.
Nutrient addition.
Evaporation and water loss.
Sterility.
Algae collection and aggregation.
Scaleability and space requirements.
Solaris has uniquely addressed these challenges at a benchtop / lab scale.
Elara Stirred Autoclavable Photobioreactor
The ELARA ST (stirred) photobioreactor is ideal for phototrophic organisms as moss, microalgae, bacteria and plant cells under optimum conditions. The spectrum is selectable and the light intensity is dimmable from 0-100% up to 3000 μmol(photon)/m2 Turbidostat mode via turbidity sensor.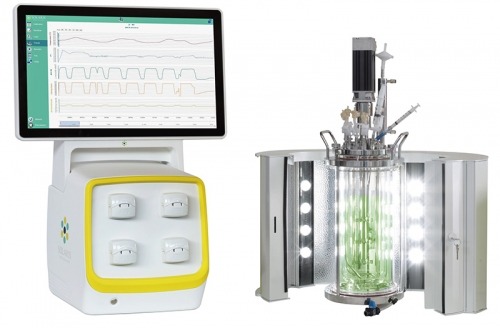 Elara Stirred benefits include:
Digital online DO, pH, conductivity, &/or ORP sensor management utilizing Hamilton ARC Modbus communication.
Total volume 4L.
Flexible head plate design.
Automatic and/or manual control of light intensity and circadian cycle simulation.
Peristaltic pump options for feed, pH control, etc.
Up to 5 mass flow controllers within PCS cube.
Powerful & accurate agitation utilizing brushless DC motor with a 1 to 2,000 RPM range. Agitation power consumption available in software.
Cell density: OD or VCD/permittivity probe integration available.
Other parameters available including weight, CO2, etc.
Powerful & Intuitive Leonardo Software to control up to 24 units in parallel.
Flexible options for data export & management.
Remote control access available via PC, tablet and/or smartphone.
Elara Flat Photobioreactor
The ELARA FLAT photobioreactor is ideal for phototrophic organisms as moss, microalgae, bacteria and plant cells. The flat design allows much better light intensity control by utilizing a uni-directional light source and receiver. The light intensity is dimmable from 0-100% up to 3000 µmol(photon)/m2.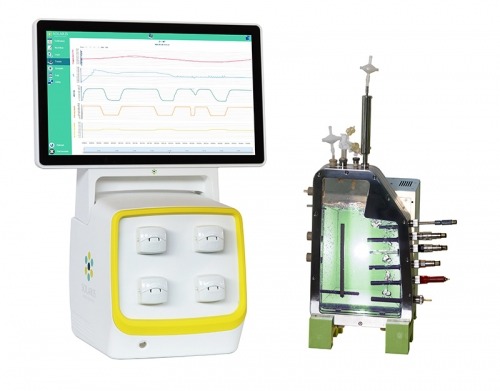 Benefit of the Elara Flat include:
Up to 24 units managed with one HMI with innovative PARALLEL process control LEONARDO: smart controller designed to provide an high level of automated management of the fermentation/cultivation processes.
Total volume 1.6L.
24'' HMI.
Remote control via PC, tablet and smartphone for process management and after sale assistance.
Asymmetric shape to prevent foam formation.
Homogeneous light distribution.
Automatic and manual control of light intensity and circadian cycle simulation.
Modbus Digital Hamilton sensors.
LEDA safe sterile sampling system.
Safety: pressure relief valve included in each unit.
Compact and modular PCS.
N.4 assignable Watson Marlow pumps in entry level.
Additional External modular box: OD, dCO2, weight, thermobox, peristaltic pumps.
Parts in contact with the culture made in borosilicate glass and Super duplex SAF 2507 highly resistant to salty water.
Airlift mixing
Get more info from Solaris Biotech USA
Please complete this form to receive technical details about Elara St and/or Elara Flat photobioreactors.